Shine Hygiene Vent Hygiene Elite scheme approval audited and confirmed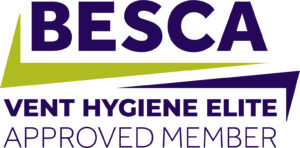 Shine Hygiene's approval by the industry Ventilation Hygiene Elite scheme has been confirmed, which means our customers – and their insurers – continue to have complete assurance of the standards we achieve when cleaning ventilation systems to recognised TR19® standards.
The BESA VHE scheme has established a robust process to verify the quality of cleaning – particularly of grease extract systems used by commercial kitchens. It was introduced in response to growing awareness among building owners, operators and insurers of the fire risks posed by poorly cleaned and maintained systems.
VHE accreditation is not easily won, and it provides reassurance that personnel employed in cleaning activities have the appropriate training, skills and experience that are required, with training and technical competence records audited on an ongoing basis.
Developed for the industry by the industry, the VHE scheme requires that firms are comprehensibly-insured, and allows them to self-certify their specialist hygiene works, providing customers with easily accessible evidence of a fully-compliant clean to the required industry TR19 guide to Good Practice – Internal Cleanliness of Ventilation Systems and the recently published separate specification for kitchen extract systems TR19 Grease. Both standards are developed and maintained by the Building Engineering Services Association (BESA).
Updates to TR19 have aligned it with BS EN 15780:2011 Ventilation for buildings – Ductwork – Cleanliness of Ventilation Systems which clearly defined vital goals and measurements and recognises that different room uses require different standards.
Naturally, Shine Hygiene engineers meet both the TR19 and British Standards.
Posted 17th December 2021